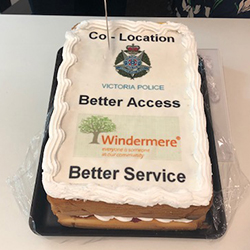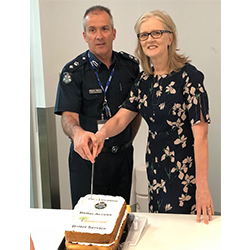 More victims of crime are being connected with the support services they need thanks to a new initiative between Sale Police and Windermere Child and Family Services. 
This will be Windermere's 4th co-location, and allows victims of crime to receive a more responsive and personal service for victims within their locality. Windermere's chief executive, Dr Lynette Buoy, recognised the importance of the partnership and providing an immediate response presence for victims.
"The partnership between Sale Police and Windermere is critical to the service we provide," she said.
"We know that if we can work with victims of crime early we can help them better understand the system, what they will go through, and support them psychologically.
"The co-location is another step in providing the best support and access that we can. We know that if we get in early we do make a positive difference."
The Windermere Victims Assistance Program operates out of Sale police station on Tuesdays, and is available remotely on other days. Referrals are made via Sale Police.
The program was officially launched on Tuesday 5 December.
To find out more about our services for victims of crime, violence or trauma fill in the form below, call our team on 1300 946 337 or visit here.