Windermere announces new Board Chair, Gary Castricum
Gary Castricum has been appointed as the new Chair of the Windermere Board after Ian Forsyth stepped down as Chair in December following ten years of distinguished service on the Board.
The incoming Chair, Gary Castricum, has served on the Windermere Board since 2015 and brings to this role a strong background in business, strategic leadership and an understanding of local issues. He is currently Managing Director of Castricum Brothers Pty Ltd, a well known business in the Dandenong area. Gary and his family are long time supporters of Windermere and have lived in the City of Casey for the last 25 years.
With a demonstrated passion for making a difference, Gary's leadership philosophy revolves around clear values, collaboration and acting in the best interests of the community.
"I appreciate the confidence that the Board has placed in me and acknowledge Ian's enormous contribution to Windermere. I look forward to continuing to ensure we improve the lives of the community members we service," said Gary.
Windermere CEO Dr Lynette Buoy thanked outgoing Chair Ian Forsyth and acknowledged his dedicated contribution to the work of Windermere in building stronger, more connected communities, and his many years of leadership as both the Chair and Vice Chair.
 "Ian has been a huge influence on the growth of Windermere and has been instrumental in many aspects of our business, and overall governance. He has also shared many of his vast networks to our benefit. His contributions at the Board table will be missed;" said Dr Buoy.
Although stepping down from the role of Chair, Ian will continue to provide significant support for Windermere's annual football-themed Bounce of the Ball fundraiser. He formed part of the inaugural organising group 20 years ago and this year's lunch is scheduled for 20 March at the commencement of the AFL season.
The transition of Chair was formalised at Windermere's December 2017 Board meeting.
At the same meeting, Pam Usher, who has served on the Board since 2010 was appointed to the role of Deputy Chair.
The role of Deputy Chair has been vacant since Elizabeth Mildwater retired from the position 12 months ago.
"Windermere is privileged to have such wonderful board members to work with to ensure that we continue making a difference to the lives of others," said Dr Buoy.
Windermere Board Members
Gary Castricum (Chair)
Pam Usher (Vice Chair)
Ricki Ryan (Treasurer)
Nicola Mendleson
David Sagar
Innes Willox
Roshan Bhandary
Chris Eccles (on a leave of absence)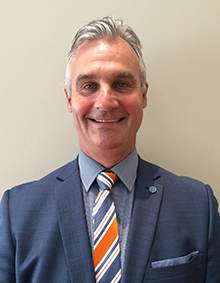 Gary Castricum, Chair
Gary Castricum is Managing Director of Castricum Brothers Pty Ltd. The Castricum family has owned and operated butcher shops and businesses in Dandenong continuously for nearly 60 years.  Gary was born and bred in Dandenong and is passionate about helping Dandenong reclaim its place as a vibrant retail and commercial hub for business and the community.
Gary lived in Dandenong North until he was 21, attending local primary and secondary schools before completing tertiary qualifications at La Trobe and Swinburne Universities.  Later he joined the family business which includes an export meat processing plant in Hammond Rd, Dandenong South, where he has been active for the last 25 years. Gary joined the Windermere Board in 2015.
Pam Usher, Vice Chair
Pam joined the management team of the Invicta Bus Group in 1995 as a change agent and was responsible for all the policies and procedures vital to the success and fair play of a large business. In 2001 Pam headed a management buyout of Invicta and spent eight very successful, challenging and happy years as Managing Director. During this time Pam sat on several industry committees, and was the first female member of the Busvic Council. As a private philanthropist Pam has many interests with a focus on the wellbeing of the socially disadvantaged. Pam is an active supporter of Windermere and has been a board member since 2010.