Meet Malti, one of our friendly NDIS Support Coordinators.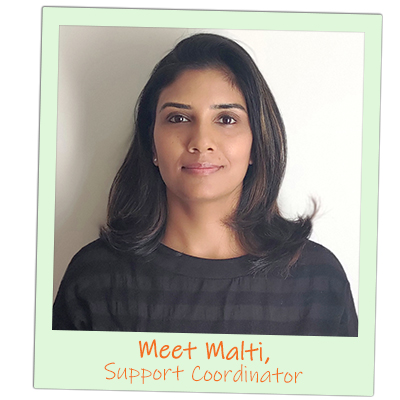 Our Support Coordinators work closely with you to understand and implement your NDIS plan.
What is your background?
I worked in the aged care and disability sector for over a decade.  For four of those years, I was in Tasmania working as a program coordinator and as a key worker in a disability support service.  I have been enjoying working as a support coordinator for more than a year now.
What do you enjoy about Support Coordination?
I love being able to make a difference in others' lives every single day. I find it very fulfilling to genuinely support people to achieve their goals and make important life choices.
Why did you want to work for Windermere?
I wanted to work for a good organisation that looks after its staff and people and Windermere has a great reputation. There are lots of professional development opportunities and plenty of positive feedback from my managers, so I feel very supported. I'm feeling happy and that I am making a genuine difference to the people I work with every day.
What do you do on a typical day at Windermere?
I help people make the most of their NDIS plans. This involves really getting to know them and working with them to build their confidence and skills that can assist them to achieve their independence and goals. I also help them connect to the services and supports that are best suited to their individual situation.  Everyone is different, so I love being able to help solve unique challenges and cater to individual needs.
What do you like to do when you're not working?
I like to listen to music and go for walks.