Spring Appeal 2017
'Every child deserves a brighter future'
Liam* is a single parent with a brain injury, struggling to care for his family. His children Zara* 3, and Kayley* 8 who has severe autism, were left traumatised by violence and neglect due to their mother's drug addiction and sudden departure from the family home.
Children like Kayley and Zara need your help to rebuild their lives.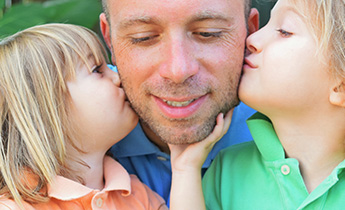 Kayley's severe autism and intellectual disability were compounded by her terrible experiences. She was unable to dress and wash herself, couldn't speak and kept running away from home. Also unable to swallow or chew, she had to be fed via a tube into her stomach.
Struggling to look after his children, but determined to give them a safe home, Liam came to Windermere for help.
We gave him practical support to manage the household and set up routines for the children. Access to parenting classes and family violence counselling, which enabled him to support Kayley and Zara with their emotional trauma.
Kayley received occupational therapy to learn how to chew and swallow and to be able to wash and dress herself. She also received help to cope with her intellectual disability.
In just over a year this family has come further than anyone thought possible. Kayley no longer has a stomach tube and feeds herself. Both girls are enjoying things most children take for granted – the taste of food, waking up refreshed after a good night's sleep and feeling safe within a stable family home. As a parent, Liam has grown in confidence and ability.
He says "Windermere gave us the right help and showed me I really was the dad my kids needed."
Behind each of the 11,500 cases Windermere helps each year, are real parents like Liam, and real children like Kayley and Zara struggling to realise their dreams of a regular family life.
Help us to make those dreams a reality by making a donation today.